Recent Awards
Exceptional Women in Medicine – Chicago Magazine – April 2021
Cardiology- Jeanne De CaraDermatology- Diana Bolotin, Victoria Barbosa, & Arlene Ruiz de Luzuriaga
Endocrinology/Peds Endocrinology- Tamara Vokes, Christine Yu, Diane Deplewski
GI: Helen Te, Carol Semrad
Geriatrics/Palliative Medicine: Stacie Levine, Monica Malec
Hematology/Oncology: Gini Fleming, Simona Chivu, Lucy Godley, Olwen Hahn, Hedy Kindler,  Rita Nanda, Toyosi Odenike, Funmi Olopade, Sonali Smith, Wendy Stock
Infectious Diseases: Kathleen Mullane
Internal Medicine: Diane Altkorn, Deborah Burnet, Kamala Cotts , Mindy Schwartz, Monica Vela
Nephrology- Mary Hammes
Pulmonary/Critical Care- Mary Strek
Archive of Sponsored DOM Grand Rounds
"Hurricane COVID and Lessons (Re)Learned", Ngozi O. Ezike, MD, Director, Illinois Department of Public Health, Tuesday, January 26, 2021
#Me Too: Addressing Sexual Harassment and Gender Inequity in Academic Medicine, Reshma Jagsi, MD, DPhil, Newman Family Professor, Deputy Chair, Department of Radiation Oncology, Director, Center for Bioethics and Social Sciences in Medicine, University of Michigan, February 4, 2020
Gender Equality in Academic Medicine: Where we are, and charting a path forward, Eileen E. Reynolds, MD, MACP, Vice Chair for Education and Chief of the, Division of General Medicine, Beth Israel Deaconess Medical Center, Associate Professor of Medicine, Harvard Medical School, February 12, 2019
Free From Harm, Tejal Gandhi, MD, MPH, CPPS, Chief Clinical and Safety Officer, President, Lucian Leape Institute, Institute for Healthcare Improvement/National Patient Safety Foundation, April 3, 2018
Epidemic of Physician Burnout: We can Afford to Turn it Around! Mark Linzer, MD, Division Director, General Internal Medicine, Department of Medicine, Hennepin County Medical Center, April 11, 2017
Disparities in Precision Medicine. Katrina Armstrong, MD, Professor of Medicine, Harvard Medical School, Chair of the Department of Medicine and Physician-in-Chief, Massachusetts General Hospital, April 26, 2016.
Autosomal Dominant Polycystic Kidney Disease: The Big Cyster. Arlene Chapman, MD, Chief of Section of Nephrology and Director of Clinical Resource Center, University of Chicago Medicine, April 7, 2015.
A Call to Action: Invest Now to Secure a Healthier Future. Claire Pomeroy, MD, MBS, President of the Albert and Mary Lasker Foundation, April 8, 2014.
Targeted Therapies in Lung Cancer. Alice Shaw, MD, PhD, Assistant Professor of Medicine, Harvard Medical School and Attending Physician, Massachusetts General Hospital, April 2, 2013.
Advancing Women Faculty… Lessons Learned from a Dedicated Initiative. Elizabeth Travis, PhD, Mattie Allen Fair Professor in Cancer Research, Associate Vice President, Women Faculty Programs at the Univ of Texas MD Anderson Cancer Center March 27, 2012.
Oncofertility: New Insights into Fertility Preservation for Cancer Patients. Teresa K. Woodruff, PhD, Thomas J. Watkins Professor of Obstetrics & Gynecology; University Feinberg School of Medicine; Professor of Biochemistry, Molecular Biology and Cell Biology in the Weinberg College of Arts and Science, March 29, 2011.
Women's Health: The Impact on Academic Medicine and Beyond. Paula Johnson, MD, MPH, Executive Director of the Connors Center for Women's Health and Gender Biology, Chief of the Division of Women's Health at Brigham and Women's Hospital, Boston, MA, March 30, 2010.
Rheumatoid Arthritis as a Segmental Aging Syndrome. Cornelia M. Weyand, MD, PhD, David Lowance Professor of Medicine Director, Lowance Center for Human Immunology and Rheumatology Emory University School of Medicine Atlanta, Georgia, March 31, 2009.
Transparency, Transformation and Value Creation: Balancing the Need for Quality Improvement with the Call for Value-Driven Healthcare. Carolyn Clancy M.D., Director, Agency for Healthcare Research and Quality (AHRQ), Department of Health and Human Services, March 4, 2008.
Toward a Primary Prevention of Breast Cancer. Olofunmilayo Olopade M.D., Professor of Medicine, Section of Hematology/Oncology and Human Genetics, University of Chicago Medical Center, November 14, 2006.
Inflammation, Atrophy, Gastric Cancer: Connecting the Molecular Dots. Juanita Lynne Merchant, MD, PhD, Professor of Internal Medicine and Integrative and Molecular Physiology, November 15, 2005.
The Promise and Challenges of HPV Vaccines. Laura Koutsky, MPH, PhD, October 19, 2004.
Cardiovascular Health in Women: The WHI and Beyond. Lori Mosca, MD, MPH, PhD, February 11, 2003.
Gender Differences in Medicine: Analyzing Stereotypes and Looking Ahead. Janet Bickel, MA, January 29, 2002.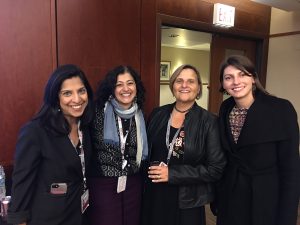 Career Development Events
Mentorship in Medicine. Abby Spencer, MD MS FACP, Vice Chair of Education and Professor of Medicine, Director of the Academy of Educators at Washington University School of Medicine, Wednesday, May 5th, 2021
Gender Equity in Medicine: Working from the Ground Up. Jennifer Reilly Lukela, MD, FACP, Associate Program Director, Internal Medicine Residency Program, Clinical Assistant Professor, Division of General Medicine, Co-Founder and Faculty Facilitator, Equal Medicine, University of Michigan Medical School, Friday, October 30, 2020
Managing Child Care & Learning During the Pandemic, Julie Oyler MD; Neda Laiteerapong, MD, MS; Anna Volerman, MD, August 20, 2020
Female Academics Life Balance in the Covid Crisis, Jen Rusiecki MD, Shannon Martin MD, Julie Oyler MD, Deb Burnet MD,  June 18, 2020
Infertility Panel, Sonali Paul MD, Valerie Press MD, Julie Oyler MD, Wei Wei Lee MD, May 27th, 2020
Conflict and Ethical Dilemmas in Healthcare Professionals. Emma Levine , University of Chicago Booth School of Business, October 11, 2019
Women and Negotiation: Alice F. Stuhlmacher, Ph.D. Professor, Industrial-Organizational Psychology Chair, Department of Psychology DePaul University, Nov 7, 2018
Dynamics of the Gender Gap for Young Professionals in the Financial and Corporate Sectors, Marianne Bertrand, University of Chicago, Booth Business School, Feb. 19, 2018
Managing Conflict in the Workplace. Jan Brette, Professor of Dispute Resolution , Northwestern University's Kellogg School of Management, November 1, 2017
Leading High Impact Teams. Leigh Thompson, Professor of Dispute Resolution and Organizations, Northwestern University's Kellogg School of Management, Monday, January 23, 2017
Speak for Success. Lori Klinka, Speaking and Acting Faculty, Columbia College. October 10, 2016
Negotiations Workshop: Hone Your Skills. Linda Ginzel, Clinical Professor of Managerial Psychology, The University of Chicago Booth School of Business. April 1, 2016.
Women Who Lead: What They Know and How They Do It. Rebecca Sive, Academic Director of Women in Public Leadership Executive Education Program at the Harris School of Public Policy, September 25, 2015.
Critical Conversations. George Andrews, Associate Dean of Degree Programs, Rice University, Jones Graduate School of Business, January 16, 2015.
Women Don't Ask: Personal Fulfillment, Professional Success, and the Power of Negotiation, Sara Laschever, co-author of Women Don't Ask and Ask For It, September 19, 2014.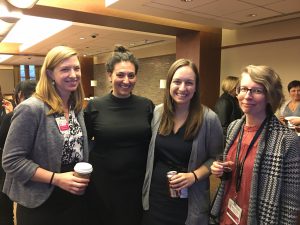 Journal Clubs
Journal Club, December 4, 2015
Jagsi R, Biga C, Poppas A, Rodgers GP, Walsh MN, White PJ, McKendry C, Sasson J, Schulte PJ, Douglas PS. Work activities and compensation of male and female cardiologists. J Am Coll Cardiol 2015 (epub ahead of print)
Jagsi R, Griffith KA, Stewart A, Sambuco D, DeCastro R, Ubel P. Gender differences in salary in a recent cohort of early-career physician-researchers. Acad Med 2013;88(11):1689-1699.
Ash AS, Carr PL, Golstein R, Friedman RH. Compensation and advancement of women in academic medicine: is there equity? Ann Intern Med 2004;141:205-212.